Whether you're looking to get stuff done or simply relax, here are 10 things to do on your layover at Tokyo Haneda Airport:
1. Check out the food scene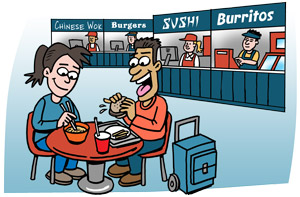 Japan is a foodie's paradise, and you can sample some of that here at the airport. In the International Terminal, most restaurants, cafes, and to-go kiosks are located on the 4th Floor's Edo Market, including plenty of Japanese staples like ramen, sushi, and and soba, plus Italian, European, and deli options. In Terminals 1 and 2, you have your pick from about 100 options, spread throughout and ranging from high-end restaurants to quick options like Starbucks and Subway. Several eateries stay open around the clock, for those late-night hunger pangs.
2. Lounge
If you're spending your time between flights catching up on work, you may want to check into one of the many airport lounges. For a single fee, you can take advantage of WiFi, included drinks and food, and a quieter, comfier environment than the main terminals. The nice thing about these lounges? All travellers can take advantage of them, not just First or Business Class travellers. Some are even open 24-hours. Simply show up at the door and pay the fee. Locations and amenities are listed in our Tokyo Haneda Airport Guide.

3. Shop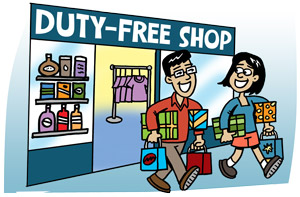 Shoppers rejoice! With over 100 shops in the domestic Terminals 1 and 2 alone, you'll have plenty of ways to spend your layover and your money. And even if you're not a shopper, you'll enjoy browsing the many well-curated shops. You'll find a range of boutiques, local clothing brands, bookstores, handmade art shops, and airport standards like Duty Free areas, convenience shops, and technology stores. The International Terminals has fewer shops, but they still run the gamut from quick last-minute needs to Japanese and high-end options. Hello Kitty Japan and the KIRI Japan shops are especially popular.
4. Showers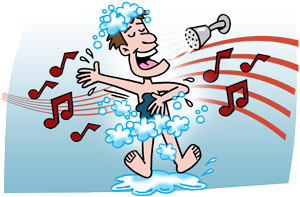 Wanna shake off that flight feeling? Freshen up with a shower! Facilities are located in the International Terminal, and the shower cubicles include towels, toiletries, and hair dryers, plus a free drink coupon. Rates per person: ¥1,030 per 30 minutes; ¥520 for each 15 minutes thereafter.
5. Take care of your errands
Use your layover at Tokyo Haneda airport to check-off any chores. Take advantage of a shoe shine and repair shop, laundry services, and even dry cleaning.
6. Freshen up at the spa or barber
In need of a quick haircut? Airport Barber in Terminal 1 is open daily. Or, if you want to indulge in some pre-flight pampering, the Raffine Refreshment Salon offers massage services and reflexology – though they are located pre-Security.
7. Visit the museums
Located in Terminal 2, the Discovery Museum is a mix of art exhibits and a history of Japan. Open daily. Terminal 1's Juveniland Tokyo is a fun gallery that displays vintage toys and nostalgia, offering some up for kids to play with.
8. Sightseeing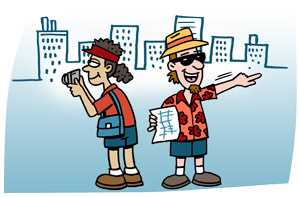 Located just a few miles from the city center's Tokyo Station, if you've got enough time between flights, you can actually pop into this world-class city for a few hours.
First, check your hand luggage at the storage areas in all three terminals. Then, head for the train, the quickest way into the best city areas. The Tokyo Monorail stops at Terminals 1 and 2 and the International Terminal, connecting to the Hamamatsucho Station. The Keikyu train line stops at a shared station between Terminals 1 and 2, plus another station at the International Terminal, which will have you at Shinagawa Station in under 15 minutes. Buses and trains are available, too, but they have to compete with the notorious Tokyo traffic.
With so much to see, you'll want to pick just one or two sights or neighborhoods to explore. In Asakusa, the Senso-ji Temple and Asakusa-jinja Shrine are popular spots. Shoppers will love the malls and department stores in Shibuya (also known for its street crossing – the infamous Shibuya Pedestrian Scramble). Harajuku is the trendsetter center, so it's a good spot to relax, enjoy a coffee, and people-watch once you've visited the must-see Meiji-jingu Shrine. For great views of this huge metropolis, head to the Mori Tower in Roppongi.
However you spend your time away from the airport, make sure you have plenty of time to get back before that next flight.
9. WiFi
WiFi is free and unlimited, so you can catch up on all of the internet, but you will have to register with a name and valid email address. Speedier and secured options are available for a fee.
10. Sleep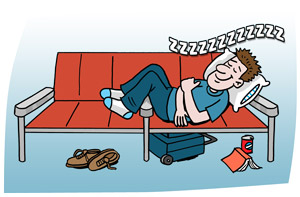 Airport staff are generally tolerant of airport sleepers, even those camping out overnight in this 24-hour airport. The airport itself is pretty friendly, too, thanks to an abundance of benches and couches (some without armrests), many carpeted areas, and dim lighting at night. If you are staying in a terminal overnight, plan for security to check your passports and tickets. Not sure if sleeping in the airport is your speed? There are two hotels directly at the airport: a traditional hotel connected to the international terminal and a budget capsule hotel, located in Terminal 1, which accommodates one person per room (bathrooms are shared). Both options offer day rooms or "refresh" rooms. Otherwise, two hotel are located within a few minutes' drive of the airport. See our Tokyo Haneda Airport Guide for details and locations.
These are just a few things to do on a layover at Tokyo Haneda Airport. Visit our Tokyo Haneda Airport Guide for more information about more services and facilities available, such as food, WiFi, mobile charging, luggage storage, nearby airport hotels, and much more.