If you have found yourself with a layover at Venice Maco Polo Airport, you may now be wondering what to do with your time….besides sleep! While options are a bit limited, you'll find a few airport basics to help you pass the time.
Here are 7 things to do on a layover at Venice Maco Polo Airport.
1. Dine out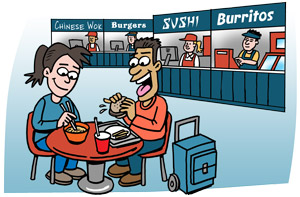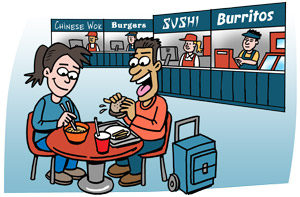 Start your layover with a bite to eat. There are a few cafes and restaurants – nothing to write home about in terms of quantity, but most travellers will be satisfied with pizza, pasta, panini, and gelato options. Note that no restaurants stay open all night, so if you've camping out, plan ahead for a midnight snack.
2. Relax in a lounge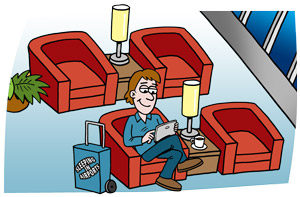 In the mood for a one-stop-shop for food, drinks, WiFi, and maybe even shower facilities — all in a comfortable setting? Head to an airport lounge – no longer exclusively for First or Business Class flyers. A couple airport lounges here allow access to any traveller, regardless of your airline or flight class flown. Simply pre-book a lounge pass online, use your lounge membership program, or pay at the door to gain entry. Visit our Venice Airport Guide for lounge locations and access information.

3. Browse the shops
Spend your layover browsing the shops. This is Italy, so you'll find a selection of Italian and well-known fashion brands, especially for an airport of this size. Of course, you can also browse plenty of souvenir shops, bookstores, convenience spots, and Duty Free sections for any last-minute needs.
4. Visit the observation deck
Head to the North Terrace, Floor 2, for a free view of the action. You can watch planes come and go against the backdrop of the Venice skyline.
5. Explore Venice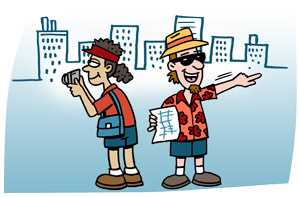 If you've got a long layover, you may want to take advantage of your proximity to Venice. Exploring the mysterious canals and winding alleys will give you a true appreciation for this unique watery city.
With a minimum of 6 hours before your next flight, hop on a motorboat or water taxi that connects the airport with Venice and the main islands of Murano, Burano, and Lido. Buses and taxis are available, too, but the Venetian Islands are closed to vehicles, so you'll have to transfer to reach the Venice city center. (Note you can store your bags outside Entrance E, Ground Floor.)
Stroll through Piazza San Marco, the square where you'll spot world-famous architecture and the iconic gondolas tied along the canal. Tour the Doge's Palace for a peek into the height of the Venetian Empire. Visit the Rialto Market for fresh fish, fruit, and other local delectables. Tour the Accademia, art galleries that showcase the best in Renaissance art. The true atmosphere of the city reveals itself as you wander down quieter alleyways, away from the crowds. Just keep an eye on the time – it's easy to get lost in this wonderland!
Head back with plenty of time to reach the airport, pick up your bags, and make it through Security before your next flight.
6. Get Connected
Stay connected to friends and family, update your social media accounts or surf the internet courtesy of the airport's free WiFi. If you have a long layover, you'll want to use your time wisely, as there is currently a 6 hour time limit per device. Boo!
7. Sleep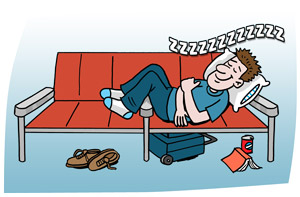 You can get away with some sleep here, but if you're staying overnight, expect a wake-up by police or security to check your passport and tickets. There are a few benches but they're mostly wood, so not exactly comfortable. Extra layers and earplugs can combat against the airport chill and noise. Do note that travellers have reported that homeless or non-travellers seem to camp out at the airport too. If sleeping in a hotel is more your style, there are a few hotels within a 3-minute drive of the airport, and most offer free shuttle service. See our Venice Marco Polo Airport Guide for locations and amenities.
These are just a few things to do on a layover at Venice Airport. Visit our Venice Airport Guide for more information about more services and facilities available, such as food, WiFi, mobile charging, luggage storage, nearby airport hotels, and much more.