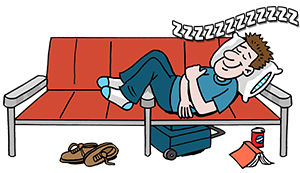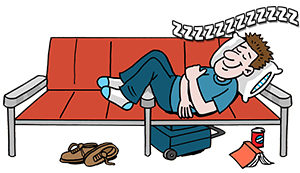 If you're dealing with a long layover or an early morning flight departure at Paris Orly Airport, you might be wondering if it is possible to sleep in the airport. Our guide to sleeping in Orly airport provides essential information for seasoned airport sleepers and newbies to help travellers arrive prepared for the experience.
We keep this guide up-to-date with the help of airport sleepers who have generously shared their experiences and airport reviews. If you have any tips or photos to contribute, please take a moment to write a review. Your feedback will help us stay informed about the latest advice for future sleepy travellers.
Sleeping in Paris Orly Airport
The Paris Orly Airport may close at night from 12:30 AM – 3:30 AM, though it seems you can remain inside if you're already inside before closing time. Be safe by having a backup plan ready.
Locations & Seating
What seating exists is mostly fit with armrests, making it hard to get comfortable. Get creative to prop yourself up or spread out on the floor for some decent shuteye – you won't be the only person to do so! If you're sleeping in the landside/public zones, the seating is much more limited, so bring an extra layer or cushion for the floor.
Here are good sleep spots that travellers have reported:
Try sleeping on the couches and benches inside cafes, especially once they close after 9:00 PM or so.
There's a hallway just before Halls 3 and 4 with a few chairs offering some privacy.
Landside, many people sleep in Terminal 1-2 on Floor 1.
In Terminal 4, landside, the check-in counters 15-17 are suitable for sleeping on the floor.
Do you have a good location, airport tip or photos to add? Click here for our review form.
Rest Zones
At the time of this update, there are no designated rest zones within the airport.
Hotels

If you're craving the privacy and comfort of a hotel room, you will have to leave the airport behind. Several hotels are within a 5-minute drive, including one within a 10-minute walk. Most offer free shuttle service, too. See the hotel section in our Airport Guide for locations, or visit TripAdvisor to find hotel deals at Orly Airport.
Lounges

While Paris Orly Airport has a few lounges, neither has designated sleep rooms or rest areas. If you want to relax in a comfortable seat for a few hours before your flight, check out the pay-to-use lounge details in our Paris Orly Airport Guide.
Airport Conditions
If you plan to spend the night at the airport, here are a few things to keep in mind:
Temperature – Plan for colder temperatures inside the airport, especially overnight. Floor sleeping will be much better with an extra layer for warmth. Arrive prepared with a blanket or even a sleeping bag. A hoodie provides extra warmth if the terminal gets even colder.
Lighting – Lights are bright throughout the night. Come

prepared with eyeshades or something else to cover your eyes, such as a shirt or towel.

Noise – Travellers report standard airport noise during the day: frequent announcements, TVs and music playing, and the ambient noise of people, restaurants, and workers. By night, there are rarely any flights, so it does quiet down a good amount. You may hear cleaning crews or security guards, but they pass quickly enough.
Weather Delays
Paris Orly Airport sees more than its fair share of flight cancellations due to bad weather or transportation strikes, but this means they are more prepared than other airports. When mass cancellations happen at Paris Orly Airport, cots are available for stranded passengers who opt against getting a hotel room. To find them, ask an airline or airport employee or use a courtesy phone to reach someone with access to this information.
Please note that these cots cannot be reserved in advance, and they are not available simply because you decided to spend the night at the airport before an early-morning departure.
Showers
Unfortunately, there are no showers available to freshen up.
Food & Drink
With no 24-hour food concessions, stock up on food and water before eateries and convenience stores close for the night.
Security & Safety
At the time of this update, we have no reports from travellers commenting on safety issues at Paris Orly Airport. Airport staff don't seem to mind sleepers and overnight campers. Several travellers mentioned feeling safer thanks to security patrolling the terminal at night.
Sleeping in any airport can include a certain level of risk, especially when travelling alone. It's important to take certain precautions to ensure your safety and the security of your valuables. Here are a few tips:
Safety First. It's a good idea to know where the security office is located and look for video cameras where you plan to sleep. You can also ask the security personnel for advice on the safest places to spend the night.
Don't Seclude Yourself. If you're travelling alone, we recommend you stay near other travellers or close to security. This will help you feel more secure and deter potential thieves.
Hide Your Valuables. It's also important to hide your valuables. Don't leave them out in plain view, as this could make you a target for theft. Additionally, if you are a deep sleeper, you may want to padlock your bag to something or sleep with your bag up against a wall to make it harder for someone to access zippers and pockets. We have received reports of sleepers who woke up without their phones and laptop bags. The travellers were left with just their headphones and laptop bag strap.
Stay Alert. It's best to stay alert and awake if you feel unsafe or uncomfortable. Drink coffee or other caffeinated beverages to help you stay awake, and remember that you can always catch up on sleep during your flight. These simple precautions can help you enjoy a safe night at the airport.
Pro-tip: If you sleep in the public zone, don't be surprised if you receive an early morning wake-up call. Security is known to make the rounds, waking people up as travellers arrive for morning flights.
Write a Review
To help us keep this page up-to-date for future airport sleepers, write a review about your experience sleeping in Paris Orly Airport.
Airport Photo Gallery
Thank you to the airport sleepers who have written reviews and shared their airport photos to help future travellers. Click here to add your airport photos.