Whether you have a layover, overnight sleepover or you are just quickly passing through, our Seattle Airport Guide is a great place to start planning your visit.  Here, you'll find information on services and facilities available inside the airport – including details about airport lounges, WiFi, mobile charging points, lockers, 24-hour food options, nearby hotels, and everything in between.
The padded benches are gone. Your best bet is to snag a chair from one of the tables and pair it with the ubiquitous leather airport terminal chairs with armrests. – a guest reviewer
SEA Airport Overview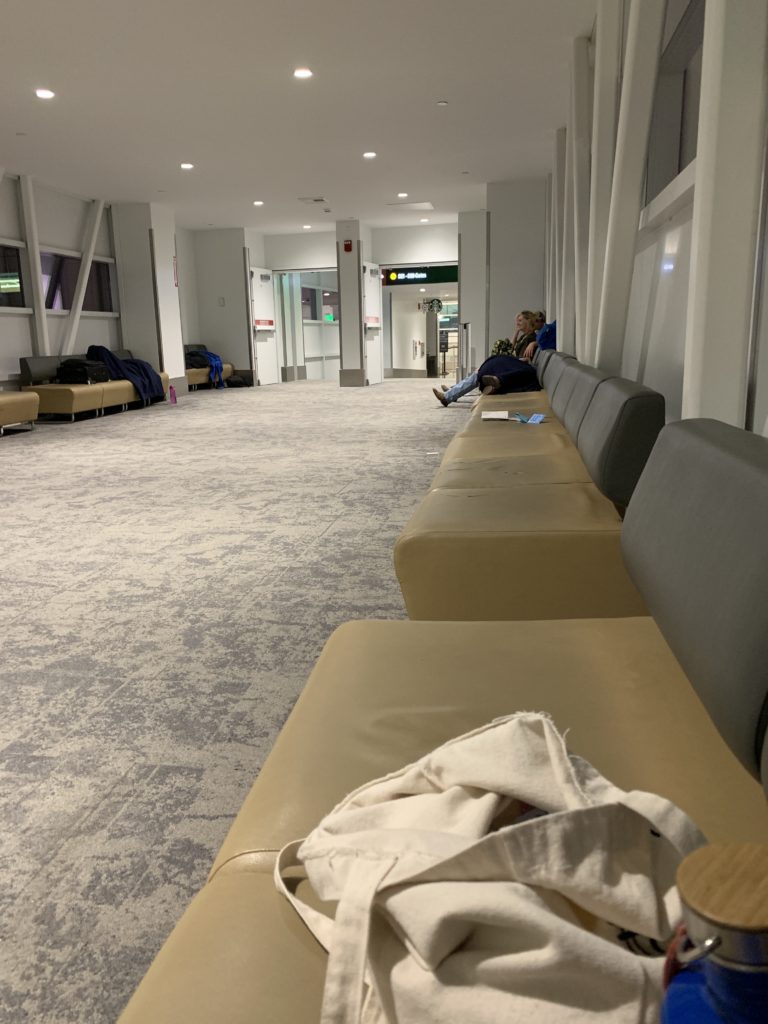 To help you plan your layover or overnight sleepover, here is a quick run-down about what to expect during your time at Seattle  Sea-Tac Airport.
What to Expect
Seattle Airport (code: SEA) is spread over four terminals. The Main and Central Terminals are next to each other, easily reachable on foot. The satellite North and South Terminals are connected by train. Do anticipate some walking to reach your gate and other amenities.
Most areas pre-Security are sparse, with the majority of food and shopping outlets located airside. A few eateries stay open 24 hours. WiFi is free, and power outlets are abundant – just look under the seats at most gates. Pass a long layover by strolling the half-mile Art Walk or checking out the daily live music performances. For more creature comforts, economy class passengers can check into several airport lounges (one even has shower facilities!). See Airport Lounges in the guide below for locations and access information.
Sleeping in Seattle Airport
As a major transit hub, travellers are looking for sleep spots at all hours. The good news is that you can stay airside overnight, but it seems you will have to contend with a sea of armrests.  Sadly, recent reviewers have noted that the benches are no longer available.  Thumbs down Seattle!  Landside, a meditation room offers peace and quiet. Bring earplugs or noise-cancelling headphones to help combat loud TVs and frequent announcements, but a reader tells us the effort may be lost as crying babies and nearby conversations prevent decent sleep. Explore our guide to sleeping in Seattle Airport or read some traveller reviews for more tips.  For uninterrupted sleep, hop on a free shuttle to several nearby hotels. See Airport Hotels in the guide below.
Covid-19 Update
Some airport reviews and tips in this guide and elsewhere on the site were written before March 2020 and may no longer be valid. To help us keep this guide up-to-date, you can add or update information or write a review to submit airport tips and photos.
For more airport information continue scrolling down to explore more in our Seattle Airport Guide.
In this guide we may refer to locations as "landside" and "airside". Landside is the public area of the terminal located in the non-secure zone, before security. Airside is the secure area of the terminal that you must reach by going through security.  For more information on Europe's Schengen Area, click here.
Seattle Airport Hotels
Quick Facts
Nearest Hotel:  Within 10 minutes from the airport
Sleep Cabins or Pods: No
Day Rooms: No
Nearby Hotels with Free Shuttles: Yes
When the prospect of sleeping on the floor or in a chair is giving you nightmares, there is good news for those of you who are looking to sleep at Seattle Airport in comfort.   If you are on a layover, you will have to pass through immigration/security as there is no transit hotel or accommodation on the airside.  There are many nearby hotels, most of which provide free airport shuttles.  At the time of this update, courtesy phones had been disabled due to Covid.  Shuttles pick up and drop off from the courtesy island shuttle lane, which is located on the 3rd floor of the parking structure on Island 1 and 3.
With Covid restrictions constantly changing, we recommend that you confirm shuttle availability prior to booking and/or prior to your arrival.
For more options, visit Tripadvisor to see a list of hotels near Seattle Airport that can be sorted by price, distance, traveller rating and popularity.
Airport Lounges
Pay-per-use, Single Visit Passes & Lounge Memberships
Regardless of what class of service you are flying, there are lounges that you can enter by paying at the door, purchasing a lounge pass or through a lounge membership program. Visit the individual lounge page for more details about the lounge itself and to also find out how you can gain lounge access with just an economy class ticket!
Alaska Lounge – Location: multiple locations. Lounge Access: Pay at the Door • Lounge membership programs.
Centurion Lounge – Location: Central Terminal, Airside, Concourse B, opposite Gate B3. Lounge Access: American Express® Card Members • Lounge membership programs.
Delta Sky Club – Location: Concourse A, Airside, near Gate 1.  Lounge Access: Lounge membership programs.
Passes
The Club at SEA (South Satellite)
– Location: South Satellite, Airside, next to Gate S9. Lounge Access: Pay at the Door • Prepaid lounge pass • Lounge membership programs.
Passes
The Club at SEA (Central Terminal)
– Location: Central Terminal, Airside, Concourse A, across from Gate A11. Lounge Access: Pay at the Door • Prepaid lounge pass • Lounge membership programs.
United Club – Location: Central Terminal, Airside, Concourse A, Airside, gate A10. Lounge Access: Pay at the Door with proof of United Airlines ticket • United Club Membership.
Airline Lounges
If you are a First or Business Class traveller you may have access to the lounges listed below. For more information, check the airline's website.
British Airways First Lounge (Location: South Satellite, Airside) • British Airways Terraces Lounge (Location: South Satellite, Airside).
Military Lounge
USO Lounge – The USO offers a lounge that is free of charge to active members of the US military and their families. Location: Main terminal, Landside, Mezzanine Level, 2nd Floor.
Related Pages: Seattle Airport Lounges
Airport WiFi / Internet
Free WiFi is available at Seattle SeaTac Airport. Connect to the "SEATAC-FREE-WIFI" network.
More Services, Facilities & Things To Do On A Layover At The Airport
Communications
Family Services
Baby Care Facilities – The Mother's Room offers a quiet, private place with adjustable lighting, rocking chairs, power outlets and more. There's one located inside of the Kid's Play Area, but military families can also use the Mother's Room inside the USO. In addition, 7 nursing suites are available. Locations: S Gate Mezzanine Level • Gate A9 • Gate C10 • Gate N2 • Gate D10 • Gate D23 • North, Main Terminal at Train Station. Car seat and stroller rentals are available at the Smarte Carte Storage in Baggage Claim.
Children's Play Areas – Location: Across from Seattle Taproom (between Central Terminal and A Gates). Hours: 24 hours.
Food & Drinks
Drinking Water – Thirsty? Water bottle refill stations are available free of charge. Empty your water bottles before going through security, and then refill them at one of these locations: Gates A-2 • A-5 • C-2 • D-1 • S Gates • Central Terminal (in the food court and one near the B exit/pet potty.
Food & Drinks – Food concessions throughout the airport operate with varying schedules. These options are open 24 hours:

Central Terminal Food Court (airside): Dilettante Chocolates & Mocha Cafe • Starbucks.
B Gates: McDonald's • Qdoba Mexican Grill.
Landside: Alki Bakery (inside the 24 hour Hudson News).
Vending machines are also available throughout the airport.
Information
Information Desk – Airport Volunteers offer general information about airport services. Their blue jackets are easy to spot around the airport. Red-vested "Pathfinder" customer service reps are also available, with iPad in hand, to direct passengers to where they wish to go.
Luggage
Baggage Carts – Need a hand with your luggage? Baggage carts (Smarte Carte) are available. Location: Central Terminal, landside and all gated areas. Important: Carts cannot be taken through security. If you rented one landside, you will have to leave it and rent another one airside after going through security.
Luggage Storage & Lockers – There are no lockers. Baggage can be stored at the Smarte Carte Baggage Storage. Storage includes baggage, frozen and refrigerated items. They also provide rental services for wheelchairs, strollers, and more. Business services, like notary and fax, are also available. Location: Baggage Claim level ,between Carousels 12 & 13. Hours: 5:30AM – 12:30AM. Rates: range from $8 – $22/item/24 hours.
Mobile Charging
Mobile Charging – Under-seat power outlets are available at all A, B, D and S gates, with additional outlets being added to C, D and N gates. Alaska Airlines provides under-seat power outlets at their C and N gates. Pay-per-use charging kiosks offer charger connections that fit most cell phones and mp3 players. Location: Main Terminal (Ticketing and Baggage Claim) and Concourses A, B, C and D.
Money
ATMs / Cash Machines – Need cash? ATMs are available. Fees may apply, so be sure to check your bank's fee schedule and your daily withdrawal limit if you are travelling internationally. You may also want to notify your bank of your travel plans. Locations: Central Terminal, Landside • Airside, all gated areas.
Banking Services – A full-service US Bank branch is available. Location: Main Terminal, landside, between Checkpoints 3 and 4 (next to Starbucks).
Currency Exchange – Travelex has offices in the Main Terminal (ticketing level. Hours: 5:15AM – 10:00PM) • Main Terminal (baggage claim. Hours 9:45AM – 9:45PM) • A Gates (Hours: 5:15AM – 5:45PM) • S Gates (Hours: 8:00AM – 8:00PM).
Rest & Relaxation
Hotels – see "Airport Hotels" above.
Lounges – see "Airport Lounges" above.
Rest Zone – According to a reader, the Rest Zone at B4 has been close.  We do not have any information about whether it is closed permanently due to covid or relocated to another area of the airport.  A meditation/quiet room can be found on Landside, Level 6, Mezzanine.
Take precaution even when sleeping in the rest zones.  In December 2019, a traveller at another airport reported that money and credit cards had been stolen from their bag even though the bag was right beside them.  Protect and lock your bags as you would sleeping elsewhere in public.
Shopping
Duty Free & Shopping – Dufry Duty-free is available Central Terminal, A Gates and S Gates. The S Gates location is open 24 hours. The following locations of Hudson News are open 24 hours: Central Terminal • Baggage Claim • Gate D6 • Gate D22.
Showers, Salon & Spa
Massages – Feel your stress melt away with a foot or chair massage at the Massage Bar. A 15 minute massage costs $23.00, half-hour for $43.00 and a foot massage is only $18.00. Location: airside in the N gates, open 6:00AM – 7:00PM (Mon – Fri) and 7:00AM – 8:00PM (Sat and Sun). Massage chairs can be found in the Baggage Claim area, N Gates area and in the S Gates area.
Showers – Available in the Delta Airlines SkyClub. [ see Airport Lounges above ]
Spa – The Terminal Gateway Spa offers a full array of spa services. Location: Airside, Level 5, near Gate A5. Hours: 7:00AM – 10:00PM.
Smoking
Smoking – There are two areas on airport grounds where smoking is permitted but you are going to have a bit of a hike to reach them. (1) North end of the Lower Drive (Baggage Claim level), North of door 26, across the small parking lot, adjacent to the stairs that lead to the cruise tent lot (2) South end of the Lower Drive (Baggage Claim level).
Things to do & see
Airport Art – Enjoy SeaTac's diverse and breathtaking collection of contemporary work in glass, sculpture, photography, painting and sound. For more details, check out the SeaTac Art in the Airport brochure. For a little exercise amidst beauty, stroll the Art Walk, a ½ mile path from Starbucks (Central Terminal) to Gate A-14.
Live music – Scheduled live music performances happen daily throughout the airport from 9:00AM – 3:00PM, under a program called Experience the City of Music.
Movie/TV Show Rentals – Download your must-see movies and TV shows on your portable devices for your trip at the bright orange Digiboo self-service kiosks. Located: airside at B, C, D, N and S gates.
Airport Hours
The airport is open 24 hours.
Keep in mind that TSA, airline check-in and baggage drop hours vary according to the flight schedule. Check these hours with your airline. If you are in the public area of the terminal (landside) you will not be able to get through to the secure area of the terminal (airside) until the morning. The TSA security screening checkpoint hours vary according to location:
Checkpoint #1 (South): 4:00AM – 4:00PM (or according to daily flight schedule)
Checkpoint #2: 4:00AM – 11:00PM
Checkpoint #3 (Central): open 24 hours
Checkpoint #4: 4:00AM – 11:00PM
Checkpoint #5 (North): 4:00AM – 11:00PM (or according to daily flight schedule)
Airlines
Seattle airport is served by the following airlines: Aer Lingus • Aeroméxico • Air Canada • Alaska Airlines • American Airlines • All Nippon Airways • Asiana Airlines • British Airways • Cathay Pacific • Condor • Delta Air Lines • Emirates • Eurowings • EVA Air • Frontier Airlines • Hainan Airlines • Hawaiian Airlines • Icelandair • Japan Airlines • JetBlue • Korean Air • Lufthansa • Norwegian • Southwest Airlines • Spirit Airlines • Sun Country • United Airlines • Virgin Atlantic • Volaris • Xiamen Airlines.
Airport Transportation: Getting To/From The Airport
Bus
King County Metro Buses stop on the street adjacent to the Sea-Tac Airport LINK Light Rail station. Departure times are available on posted bus stop signs, printed timetables at the Information Booth on the baggage claim level near Door 16 (opposite carousel 12), or at the King County Metro Transit website. Bus stops for Sound Transit Express Routes 560 and 574 are located on the lower drive of the main terminal. Schedules and fare information is available on the Sound Transit website.
Car Rentals
Sea-Tac Airport has a dedicated Rental Car Facility, accessible by free 24-hour shuttle service from the north and south ends of the main terminal, outside of baggage claim. Many major car rental companies operate from within the Rental Car Facility, but Rent-A-Wreck provides a courtesy shuttle to its off-site location from the Sea-Tac Airport Rental Car Facility. Alamo • Avis • Budget • Dollar Car Rental • Enterprise • EZ Rent-a-Car • Firefly car Rental • Fox Rent a Car • Hertz • National • Payless • Rent-a-Wreck • Sixt Rent a Car • Thrifty Rental Cars.
Hotel Shuttles
Many local hotels provide airport shuttle service: Cedarbrook Lodge   •   Coast Gateway Hotel   • Country Inn & Suites Seattle-Tacoma International Airport   •   Crowne Plaza Seattle Airport   •   Days Inn Seattle/Sea-Tac International Airport   •   Doubletree by Hilton Seattle Airport   •   Hampton Inn and Suites Seattle-Airport/28th Ave   •   Hilton Seattle Airport & Conference Center   • Hilton Garden Inn Seattle Airport  •  La Quinta Inn & Suites Seattle Sea-Tac Airport  •   Radisson Hotel Seattle Airport   • Ramada by Wyndham SeaTac Airport    •   Ramada Suites SeaTac Airport   •   Red Lion Hotel Seattle Airport   •   Red Roof Inn Seattle Airport – SEATAC   •   Rodeway Inn SeaTac   • Seatac Inn    •   Seattle Airport Marriott  •  Super 8 by Wyndham SeaTac Airport  •  SureStay Hotel By Best Western Seatac Airport North.
Shuttle stops are located on the 3rd floor of the parking garage at Islands 1 and 3. Ask your hotel or parking lot operator directly for shuttle service availability.
See also Airport Hotels above.
Shared Ride Shuttle
Several companies provide door-to-door shared ride or exclusive ride transfer service between the airport and destinations throughout the Seattle metropolitan area up to Vancouver, BC. Contact your service provider for rates, service areas and airport pick-up locations, or inquire at the Information Booth located on the 3rd floor of the airport parking garage.
Taxi
Taxi stands are located on the 3rd floor of the parking garage. Both sedans and 8 – 10 passenger taxis are available.
Train
Sea-Tac Airport is connected to the city by the LINK Light Rail system. There is a LINK station on the 4th floor of the airport parking garage, and connected to the airport terminal via covered skybridge one level down on the mezzanine. Trains run every 6 – 15 minutes from 5:00AM – 1:00AM Monday – Saturday (6:00AM – 12:00AM on Sunday). For further information, go to the Sound Transit website.
Last updated: 2022-04-29
This guide is for informational purposes only to assist with your planning.  All information, including rates and hours, are subject to change at any time without notice.   The information in this airport guide is based on information collected and/or received from the airports, lounges, hotels, transportation providers and their web sites. We are not representatives of any of the above mentioned service providers. To report errors or to add/update any items mentioned in the guide: update the airport guide or  write a review.