If you have found yourself with a layover at Dublin International Airport, you may now be wondering what to do with your time….besides sleep! While options are a bit limited, you should be fine for a short visit.
Here are 6 things to do on a layover at Dublin Airport.
1. Eat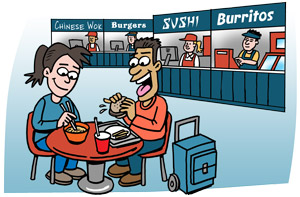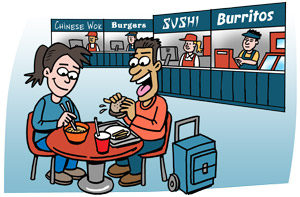 Kickoff your layover with a good meal. For an airport of this size, the airport offers a variety of cuisine, including traditional Irish food and brands, healthy grab and go, burgers, Thai food, locally-made chocolate, plenty of cafes, and full-service pubs and bars. Most of these options are located pre-Security in both Terminals or within the connected Loop shopping area, though the post-Security areas have some casual options. The For 24-hour eateries, you'll have to head to the pre-Security food court in Terminal 1. Each terminal also houses a supermarket in case you want to pick up some any snacks or goods.
2. Lounge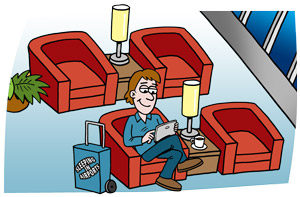 A couple airport lounges here welcome any traveller – so you don't have to fly First Class or with a specific airline to access food, drinks, WiFi, a comfortable setting and maybe even showers, all for one price. Simply pre-book online for a single visit or use your lounge membership program to gain entry. Our Dublin Airport Guide lists locations and amenities.

3. Shop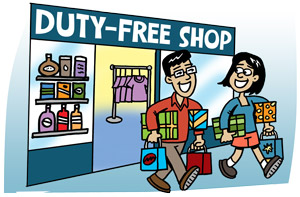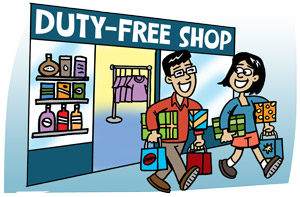 Go shopping during your layover to get your steps in — and maybe put your credit card to work too! The Loop blends the shopping experiences of a big Duty Free (affordable Irish whiskeys, souvenirs, and candy) with high-end boutiques and fashion options. You can also shop The Loop online and pick up your stuff upon arriving or leaving the airport. Of course, you'll find plenty of newsstands, travel shops selling electronics and accessories, jewelery stores, and more. House of Ireland serves up a lot of Irish brands like Waterford Crystal and Wrights of Howth is perfect for edible souvenirs like smoked salmon.
4. Get out to see the sights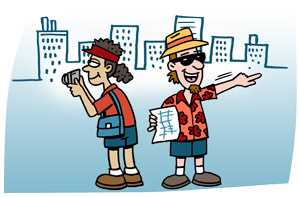 Dublin Airport is located a quick 14 kilometers due north of the city center. So if you've got at least 6 hours, you can easily spend your time checking out the city instead of killing time at the airport.
Before your explorations, feel free to check any bags in the storage area at the Short Term Car Park Atrium outside of Terminal 1. Then hop on one of two frequent buses: Airlink bus route 747 stops at O'Connell Street and Temple Bar and Airline bus route 757 will take you to Merrion Square. All these stops are within a walking distance and pass by some of Dublin's top highlights. Taxis are also available, which could be an economical choice if you're travelling with one or more other folks.
Once you're in the city, Dublin is perfect for strolling. Head to Trinity College, which dates to the late 1500s and has plenty of green space and traditional architecture. Its library houses the Book of Kells, a medieval book from the 800s! Check out the buskers along Grafton Street, the city's main shopping corridor, and pop into St. Stephen's Green before continuing your stroll past Georgian townhouses. Farther west, you can visit important churches like Christ Church Cathedral and St. Patrick's Cathedral or sample local exports at the Guinness Storehouse (which boasts great 360 city views) or the Jameson Distillery Bow Street. The Ha'Penny Bridge is a pedestrian bridge that crosses the River Liffey across to the northside of town. Wind down with a meal or traditional Irish pint in Temple Bar.
Leave plenty of time to make it back to the airport, grab your bags, and clear Security before your next flight.
5. WiFi
Stay connected to friends and family, update your social media accounts or surf the internet courtesy of the airport's free WiFi. If you don't have a mobile device, internet kiosks are available in both terminals.
6. Sleep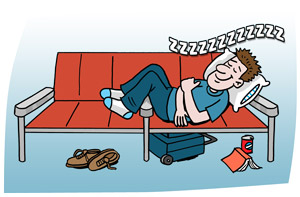 You'll have no issues catching up on sleep here, no matter if you're taking a daytime nap or camping out overnight. Inside Security, most seating options have armrests. In Terminal 2, near Gates 407-408, the PRM room has some comfortable couches – airport staff often hang out here. Travellers planning to stay the night will have better luck with comfortable sleep options in pre-Security areas. It seems totally acceptable to move the chairs around in the food courts for a makeshift bed. The Oaks eatery has comfortable chairs and is quiet through the night. Wherever you camp out, security may wake you to check your passport and through tickets. The airport is chilly so definitely bring along an extra layer. If you'd rather spend the night in a hotel, several are located within a few minutes' walk or drive of the airport, and some run free airport shuttles. See our Dublin Airport Guide for locations and amenities.
These are just a few things to do on a layover at Dublin Airport. Visit our Dublin Airport Guide for more information about more services and facilities available, such as food, WiFi, mobile charging, luggage storage, nearby airport hotels, and much more.