If you've got a layover at Hong Kong Airport, you're in for a great surprise! The airport is consistently ranked as one of the best in the world, and a lot of that has to do with its in-airport amenities and entertainment. Some travellers like it so much that they purposely plan their long-haul travels to touch down for hours at HKG.
Here are 13 things to do on a layover at Hong Kong Airport.
Good to know: The airport is large and quite spread out, so plan to walk. Terminal 1 is home to many airlines while Terminal 2 mostly caters to budget airlines. Even if you're flying in and out of T1, Terminal 2's SkyPlaza, a business and entertainment complex, is definitely worth the visit.
1. Eat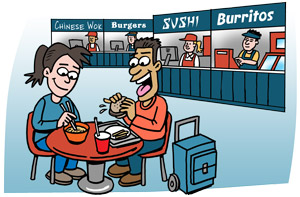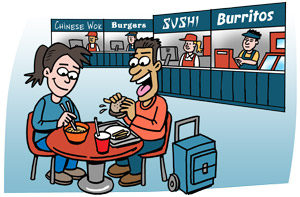 Hong Kong is a foodie city – and you can experience a bit of that inside the airport. We like the idea of taking a food tour if you've got the time, so you try dumplings, noodles, traditional tea, and more. There are plenty of eating options, from to-go foot court spots offering Western and Asian cuisine to full service restaurants. Western and European options include Starbucks, McDonald's, Pizza Express, Pret a Manger, and Joe and the Juice. Both terminals offer 24 hour option but Terminal 1 offers more.
2. Lounge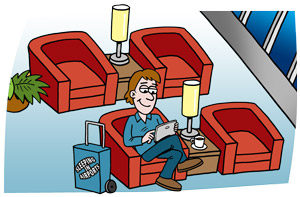 If you just want a single place to relax, hop online, grab some food and drinks, and maybe freshen up with a shower, an airport lounge is the place for you — and you don't need to be a fancy First Class flyer to get in. Several airport lounges here allow access to any traveller, no matter the airline or flight class flown. Gain entry by pre-booking a visit online, using your lounge membership program, or paying at the door. Facilities and amenities vary, so see our Hong Kong Airport Guide for details.

3. Shop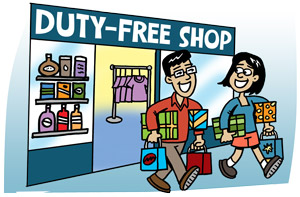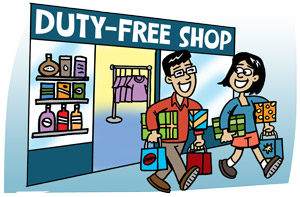 HKG is a bit of a shopper's paradise, so if you like to hit the local mall or shopping district wherever you travel, you can tick shopping in Hong Kong off your to-do list. Window shop to get some exercise, or give your credit card a work out at the numerous Chinese and international fashion boutiques. You'll find plenty of standard airport shops, too, including convenience stores, bookshops, and Duty Free areas.
4. Shower
Sometimes nothing feels better than freshening up between flights. Free shower facilities in Terminal 1, Level 7 are available 24-hours so you can wash off that last flight.
5. Spa
Terminal 1's Wellness Spa & Salon offers a range of services from beauty treatments, massages, and manicure/pedicures for all your relaxation needs.
6. Play some (virtual) sports
Head to the entertainment complex in Terminal 2 for a fun adrenaline rush. i-Sports offers a bunch of simulators that make you feel like you're playing soccer, basketball, golf, boxing, skiing, car racing, and more. Your layover will fly by!
7. Enjoy a movie
Watching a movie on IMAX in a proper theatre is a way different experience than watching one on your tiny in-flight screen (those have their own charms). Head to the UA IMAX Theatre @Airport in Terminal 2 to catch 2D and 3D flicks.
8. Golf
Rather be golfing? At this airport, you can. The Sky City Nine Eagle Golf Course is a quick shuttle bus ride from Terminal 2, and you can rent equipment on site. Hop on the bus at T2, Gate 18.
9. Check out the aviation museum
Stop by the Aviation Discovery Center, an in-airport museum dedicated to local flight history. Explore the exhibits, check out the SkyDeck, or just enjoy the relative calm and quiet the museum provides. Located pre-Security in Terminal 2; open daily.
10. Keep the kids entertained
The airport offers a lot of kid-friendly areas. TV Areas in T1 are colorful affairs with cartoons and children's shows playing on TVs, and a couple play areas are perfect for burning some energy off. In T2, the Dream Come True Education Park offers fun and interactive ways for kids to learn about real-life work environments while spending quality time with their parents.
11. Go sightseeing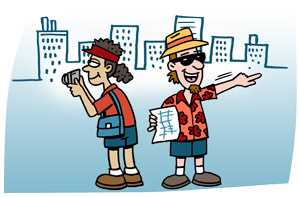 There's so much to do at HKG that you don't have to leave the airport for a truly enjoyable layover – but we don't blame you if exploring the city is calling your name. As long as you've got a layover of 6+ hours, store your luggage in either Terminal and head into town!
The great public transit network will have you downtown in about 30 minutes. The MTR Airport Express train departs every 10-12 minutes, and you'll arrive in the heart of Hong Kong in 24 minutes. (Trains stop running between 12:45AM and 5:50AM.) Taxis and buses are available too.
Once you're downtown, stroll along the iconic Victoria Harbour, which meanders past the Clock Tower and the Avenue of Stars. Hop onto the super-cheap Star Ferry for a 10-minute ride that provides perfect photo opportunities. At night, the Symphony of Lights is a light and laser show that dances along the city skyline. For more views, ride the Peak Tram to the top of Victoria Peak – if you've got the team, opt for the trails along the mountainside tropical forests. Take in the shops and cheap food eateries that Hong Kong is famous for – simply pick an area and wander around.
However your spend your layover outside the airport, be sure to head back with plenty of time to pick up your baggage and process through Security before your next flight.
For more ideas, visit our Hong Airport Layover Sightseeing article.
12. Stay connected
Stay connected to friends and family, update your social media accounts or surf the internet courtesy of the airport's free WiFi. If you don't have a mobile device, there are free desktop computers available throughout the airport.
13. Sleep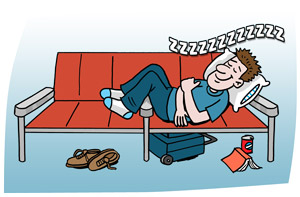 In general, you shouldn't have much problem camping out, though you'll want to be inside Security because there's little area for it Landside. There are a lot of seats and benches, and many are armrest-free, so you can sprawl out. The relaxation room near Gates 23-25 is a dimly-lit massage service area with lay-flat lounges that are perfect for sleeping. A few more lounges are located behind the planters near Gate 35. It can get noisy, so make use of earplugs or noise-cancelling headphones. You may prefer to shell out some cash for a proper night of sleep in a hotel room. If so, the Regal Airport Hotel is connected to Terminal 1, with regular hotel rooms available for overnight or day room use (9:00AM – 9:00PM). Walk across the air-conditioned bridge or wait for the frequent airport shuttles. Beyond the airport, a couple hotels with free shuttles are located a quick 5-minute drive away. For details on hotels, see our Hong Kong Airport Guide.
These are just a few things to do on a layover at Hong Kong Airport. Visit our Hong Kong Airport Guide for more information about more services and facilities available, such as food, WiFi, mobile charging, luggage storage, nearby airport hotels, and much more.