Hong Kong is known to be a dazzling and ultra-modern city, well worth even just a quick visit. Should you find yourself with a layover in Hong Kong that is over six hours, we would strongly urge you to experience the city's famed public transit and dive into the extravagance. For a quick layover, most people opt to visit either Victoria Peak or Victoria Harbour, for some of the most impressive views of the city skyline. Shopping and eating are also two activities not to be overlooked since they tend to form the cultural backbone of this rapidly developing city. So, be sure to check out emerging designers and talented chefs who create some of the most inventive East-West fusion food on the planet. Suggestions on what to do and how to do it follow in the guide below.
Airport Overview
Hong Kong International Airport (HKG) is another popular airport within Asia, which most travellers end up passing through at some point. There is no shortage of entertainment options to help you fill an airport of less than five hours within the terminal perimeter. In fact, those who stay in the airport have the chance to watch a movie at the country's largest IMAX theater – which accommodates 350 people! Others may prefer the spa, a shower, some shopping, some snacking or some sports simulation at the i-Sports center. The options really are endless! For more information on the airport itself, check out our Hong Kong Airport Guide.
Sightseeing Options
Below are a few essential sights.
Victoria Peak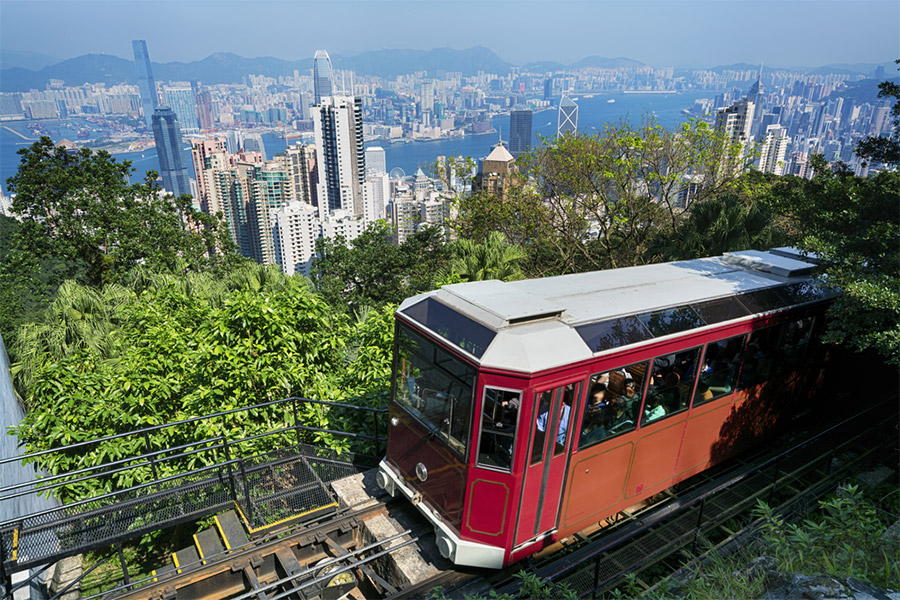 For the ultimate view of the Hong Kong skyline, you will need to board the Peak Tram. This funicular railway carries passengers 396 meters above sea level on an impressively steep pitch. It drops you at the top of The Peak, where you will be able to take in spectacular panoramic views of this pulsing and dazzling world city. For some, a walk around the top may be sufficient. However, the newly revitalized wok-inspired Peak Tower offers a little extra entertainment, given that it houses a handful of shops, restaurants and local art galleries. Should you rather stretch your legs, a number of short walking trails wind along the slopes of the mountain and through the tropical forests. Hong Kong Park at the base of the tram is also a great spot for a stroll.
Time Required: It is recommend that you take a minimum of two hours to explore The Peak and the associated shops, galleries and museums. This does not include time to get to and from the airport.
How to Get There: Check out this Google Map for details on public and private transit options, and the associated time required
Starstreet (Wan Chai) District
Even a quick visit to Hong Kong would be incomplete without experiencing the city's culinary and consumer-driven scene in the self-proclaimed 'Cultural Precinct'. There are few better places to immerse yourself in the madness than in the Starstreet District. Filled with tea and food halls (cha chaan teng), tiny boutiques and high end stores, this region will keep you entertained for as long as you can afford it. Hip, trendy and always evolving, this gives visitors a glimpse into the evolution of the city, and the area's best artisans and entrepreneurs.
Time Required: Days can be spent browsing through the shops and sampling the restaurants of Starstreet. We would recommend a minimum of an hour and a half for exploration. This does not include time to get to and from the airport.
How to Get There: Check out this Google Map for details on public and private transit options, and the associated time required.
Victoria Harbour
A stroll along the iconic Victoria Harbour is another essential activity on a stopover in Hong Kong. A promenade surrounds the harbour, leading you past some of the most essential sights. Be sure to make an effort to find the Clock Tower and the Avenue of Stars before potentially boarding the Star Ferry to head over to Wan Chai or Central. If you happen to be there at night, keep an eye out for the evening display of 'A Symphony of Lights'. This light and laser show lights up the city skyline.
Time Required: Victoria Harbour can be explored in as much or as little time as you like. We would recommend taking a minimum of an hour to walk the promenade and visit the primary sights – though two – three hours would be more leisurely. This does not include time to get to and from the airport.
How to Get There: Check out this Google Map for details on public and private transit options, and the associated time required.
Transportation
HKG is serviced by a number of private and public transit options, making it easy enough to access the city center. The airport also provides services to assist with connections to mainland China on their website. As a point of interest, Hong Kong's public transit is among the most efficient and profitable systems worldwide.
Public transit options include:
Airport Express (Airport Station): Connects passengers with the city center in 24 minutes. Ticket price includes a free porter service and a free shuttle bus service to most major hotels and transport interchanges in Hong Kong. For fares and schedules visit: Airport Express Web Site
Bus: A number of routes connect passengers with various areas throughout Hong Kong.
Private transit options include:
Taxi (Arrivals Hall): Taxi Station organizes cars to the various regions of Hong Kong.
Rental Cars: A number of companies offer rental car services to travellers.
Before You Go: Layover Tips
Now that you are motivated and excited for your mini layover vacation, just make sure to check a few final logistical concerns off your list before you fully commit.
Do you need to organize a visa to leave the airport? Requirements change frequently and for each nationality, so be sure to seek out current details on the availability, cost and procedures of obtaining a transit visa.
When is your next flight's check-in time? Make sure you double check with your airline exactly when you need to be at the airport – and plan your layover accordingly.
What are security wait times like at the airport? Some airports are notorious for long security wait-times, so be sure to do a bit of research in advance and factor that into your overall time-budget.
What's happening with your luggage? When you check in to your first flight, be sure to confirm whether your luggage is checked through or needs to be picked up between your connecting flights. Visit our Hong Kong Airport Guide for information about luggage storage.
Other Useful Resources
Finally, here are a few handy resources to help you plan your layover even more thoroughly:
Tripadvisor's Hong Kong Travel Forum – Check out past threads to see what other travellers have shared about sightseeing during long layovers at Hong Kong Airport or post your own questions.