Voted one of Europe's top airports in 2018, travellers seem to like the quaint, cozy vibes here. Enjoy your time with these 9 things to do on a layover at Tallinn Airport.
1. Grab a bite to eat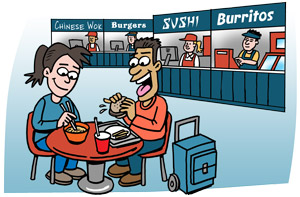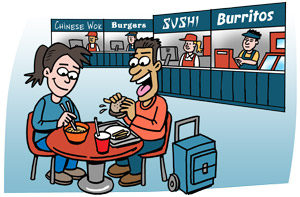 Looking for something to eat? You won't have a tough decision, as there are only a few restaurants and cafes here. For leisurely dining, head to Mamma's Bistro or Tokumaru, touted as the first Japanese restaurant in Estonia. Sample diverse wines and appetizers at Rosin Wine Bar. Casual cafes serve up to-go food, coffee, and tea. Subway has an outpost here, too. Late-night travellers should plan ahead for food and water, as no eateries are open 24-hours, with all closing by 9:00 PM.
2. Visit the lounge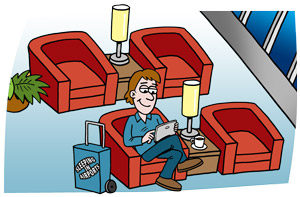 As economy class travellers, we appreciate when airport lounges open their doors to us. Luckily, the Business Lounge here welcomes anyone willing to pay to enter. Any traveller, no matter your airline or flight class, can take advantage of this all-inclusive environment: food, drinks, WiFi, news and TV, an outdoor terrace, comfortable seating, and even shower facilities. You can pre-book a lounge pass online or pay at the door. See our Tallinn Airport Guide for details.

3. Shop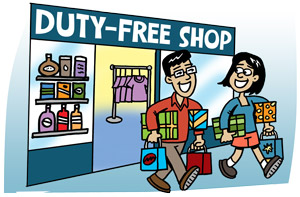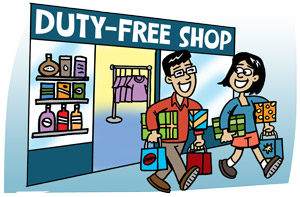 Pass some time browsing the dozen or so shops here, including Duty Free areas and convenience stores offering last-minute items. Fun souvenirs are available at Goods of Estonia and Sockdrawer.
4. Freshen up with a shower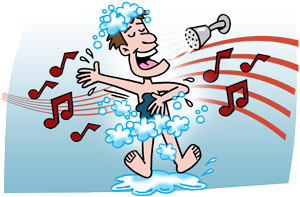 Shower facilities are available in the Business Lounge, which is open to any traveller who pays the entrance fee.
5. Visit the library
The 24-hour airport library is a modern area with comfortable seating, offering books in many languages, plus children's books. Borrow one just for your layover, or swap one on the shelf with one of your own, leaving it for another traveller to enjoy.
6. Check out the art gallery
If you find yourself in the pre-Security area, visit the airport's art gallery on Floor 2. Art exhibits rotate a few times a year.
7. Go sightseeing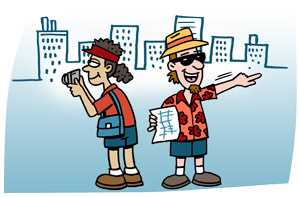 An extra-long layover in a small-ish airport might just be the perfect opportunity for some city adventure. Tallinn Airport is located just a quick drive from the city centre, so if you've got a layover of at least 6 hours, why not do some exploring?
Your cheapest option to the city is the bus. Routes 2 and 65 connect to downtown frequently, at €2 per person per way, and you'll be downtown in about 25 minutes. If you're opting for a speedier taxi, look for an official airport taxi outside the terminal – these offer the fairest prices, as other taxis are not regulated.
Once in the city center, stroll into the walled Old Town (Vanalinn), which dates to the 13th century. Enjoy a meal or a drink as you people-watch and take in the architecture at Town Hall Square. Wander the alleys and streets, where you'll stumble upon cafes, art galleries, and restaurants. Climb to the top of Toompea Hill for panoramic views of the city's red roofs. Warm up in the modern Kumu Art Museum, or enjoy the unique history on view at the Estonian Health Care Museum. If the weather's nice, join a sailing tour in Tallinn Bay.
Don't let time fly by! Make it back to the airport in time to clear through Security before your next flight.
8. WiFi
WiFi is free and unlimited, so browse your layover away.
9. Sleep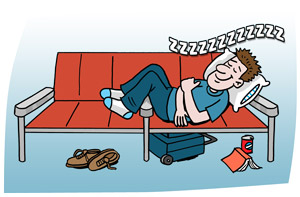 Catching up on shuteye here is no problem, as airport staff are generally quite tolerant. There's plenty of seating available in the themed lounges, including cushioned seats and benches, armchairs, and bean bags. Free sleep pods are also located throughout the terminal. Sleeping on the floor isn't too bad, either, thanks to carpet in most areas. Hotel more your style? Several hotels are located within a few minutes' drive. See our Tallinn Airport Guide for details.
These are just a few things to do on a layover at Tallinn Airport. Visit our Tallinn Airport Guide for more information about more services and facilities available, such as food, WiFi, mobile charging, luggage storage, nearby airport hotels, and much more.