Make the best of your time here with these eight things to do on a layover at Tokyo Narita Airport:
1. Enjoy one (or more!) good meals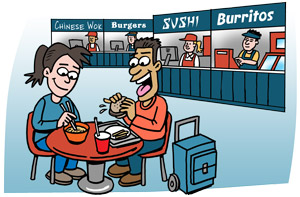 A layover here means you can explore the vast Japanese food scene, with over 100 eateries spread across the three terminals. (Some food authorities say Narita offers the best airport food worldwide!) T1 and T2, in particular, offer many sit-down options for exploring Japanese cuisine, including sushi, ramen, and other noodles; Asian cuisine, including Chinese, Korean, and Thai, plus Western options. Cafes, bars, and to-go kiosks are aplenty, too. Those in the know take time to seek out Sushi Kyotatsu, Blue Sky Miso Kitchen, and Goemon. Western options include Starbucks, Subway, and McDonald's, of course. One location (Terminal 2, pre-security) is open around the clock for overnight travellers.
2. Hang out in a lounge
Are you wishing for a one-stop shop that offers food, drink, WiFi, and a quiet environment? Look no further than an airport lounge! Many airport lounges here provide access to any traveller, no matter your airline or flight class – which means you can travel on an economy-class ticket and still pay to get into an airport lounge. Pre-book your visit online or use your lounge membership program to take advantage of unlimited food, drinks, WiFi, news, and comfortable digs. Locations and details are available in our Tokyo Narita Airport Guide.
3. Shop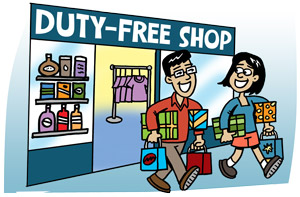 With over 150 shops across the three terminals, you can spend many hours browsing for the perfect souvenir. You'll, of course, find dozens of airport staples, like technology shops, last-minute convenience stores, bookstores, and a host of international boutiques. But don't stop there! Japan is known for many things, including great snacks, locally harvested teas, stationery, and fabric goods. Check out Traveller's Factory Airport, Kyoto Craft Mart, Mamegui, and Satsumaya Okutanien for these. Visiting the many seemingly-ordinary pharmacies offers popular Japanese, Chinese, and Korean skincare lines and herbal treatments.
4. Refresh with a shower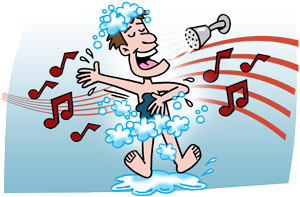 You don't have to linger in yesterday's clothes even if you're travelling overnight. Freshen up at the airport shower facilities, rentable by the half-hour for ¥1,030 (each additional 15 minutes is ¥520), with toiletries, towels, and hair dryers included in the fee. The airport's transit hotels in T1 and T2 and the capsule hotel in T2 also offer shower-only packages if you're not renting a room.
5. Pamper yourself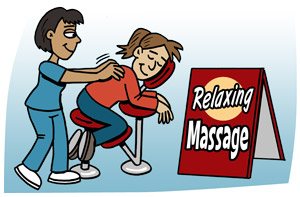 Did air travel get you feeling a little out of sorts? Opt for a massage, haircut, blowout, or even some oxygen to start feeling more YOU. Massages and reflexology services are available at Raffine (several locations). Massage chairs in all three terminals are a cheaper, less customized option. Refresh your look with a trim at Hair Salon Kings or Earnest, both unisex salons. Get your nails done with a manicure/pedicure at Nail Quick (two locations), or catch your breath at Oxygen Lounge JUKO!, offering oxygen in 10-minute intervals.
6. Go sightseeing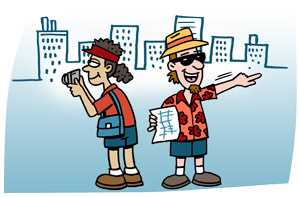 Are you itching to get out of the airport and explore? Narita Airport is far from Tokyo, so even if you opt for the speedy trains – which run frequently during the day – you're still looking at about 60-90 minutes one-way into Tokyo's city center.
If you've got a layover of 5+ hours, opt instead for the nearby city of Narita. Hop on the Keisei train line from the airport, and you'll be in downtown Narita in under 20 minutes. Enjoy a meal, people watch or shop for souvenirs along Omotesando, the main drag. Naritasan Park is a green, leafy area with a Buddhist temple, and if you're visiting in spring, it's a great spot to view the cherry blossom trees.
Only if you've got a layover of 8+ hours do we recommend heading into Tokyo. Hop on the Narita Express train, which connects to Tokyo Station in 1 hour and less frequently to Shinjuku Station in 90 minutes. You'll want to focus on just a few spots in this sprawling metropolis. Top sights include the Meiji Jingu Shrine, the Senso-ji Temple and world-class museums like the Edo-Tokyo Museum and the Nezu Museum. Or wander through popular neighbourhoods like Shinjuku, Shibuya, Ginza, and Harajuku.
However you spend your time away from the airport, don't forget to make it back for your next flight! The train stations are often large and chaotic, so leave enough time to navigate to the right platform.
7. Get Connected
WiFi is free and unlimited, so catch up to your heart's content on the internet.
8. Sleep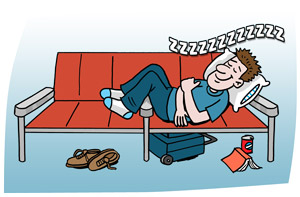 If you want to spend your layover catching up on Z's, you likely won't be dissuaded here. Airport staff are pretty tolerant of overnight campers, so be prepared to show your passport and flight plans to Security. In terms of comfort, T1 is the spot to be. Security often rounds up all overnight travellers to an area with benches and carpeting, and lights are dimmed at night. Though T3 is less spacious, many couches make napping a bit easier. Still rather opt for a hotel? You've got options! Transit hotels within T1 and T2 offer single or double rooms by the hour. (If you don't want to rest, opt for a shower-only package.) Or, head to Nine Hours Narita Airport, a capsule hotel in Terminal 2, also available for overnight or hourly rates. Within a few minutes drive of the airport are a couple more traditional hotels, running free shuttles and offering day rooms. See our Tokyo Narita Airport Guide for details and locations.
These are just a few things to do on a layover at Tokyo Narita Airport. Visit our Tokyo Narita Airport Guide for more information about services and facilities, such as food, WiFi, mobile charging, luggage storage, nearby airport hotels, and much more.