Amsterdam Schiphol Airport (AMS) is conveniently located a mere 15 kilometers from the city center, making a layover in Amsterdam pleasant, enjoyable and generally quite effortless. While the airport itself is charming and enticing, if your layover is over five hours, consider hopping on an express bus or train to explore a city that proves to be well worth the detour. Amsterdam has plenty of attractions to those who are interested in history, culture, cuisine or architecture. The Anne Frank Museum and the Rijksmuseum are certainly among the city's most noteworthy sights – though a simple self-guided bicycle tour is often another excellent way to get a sense of this world-famous destination. Check out our Amsterdam Airport Layover Sightseeing guide below for information on what to do and how to do it!
Airport Overview
Should you find yourself with a layover of less than five hours – or have too little energy to venture out into the city – you're in luck! AMS clearly stands out as a favourite European airport for transit passengers. One of the definitive highlights is the airport extension of the world-famous Rijksmuseum, though the movie theater and panorama terrace are strong competitors as well. Otherwise, delightful sleep cubes, a well-endowed spa and great gym facilities help with a bit of restoration and rejuvenation. For more information on the airport itself, check out our Amsterdam Schiphol Airport Guide.
Sightseeing Options
Below are a few essential sights.
Hop On – Hop Off Canal Tour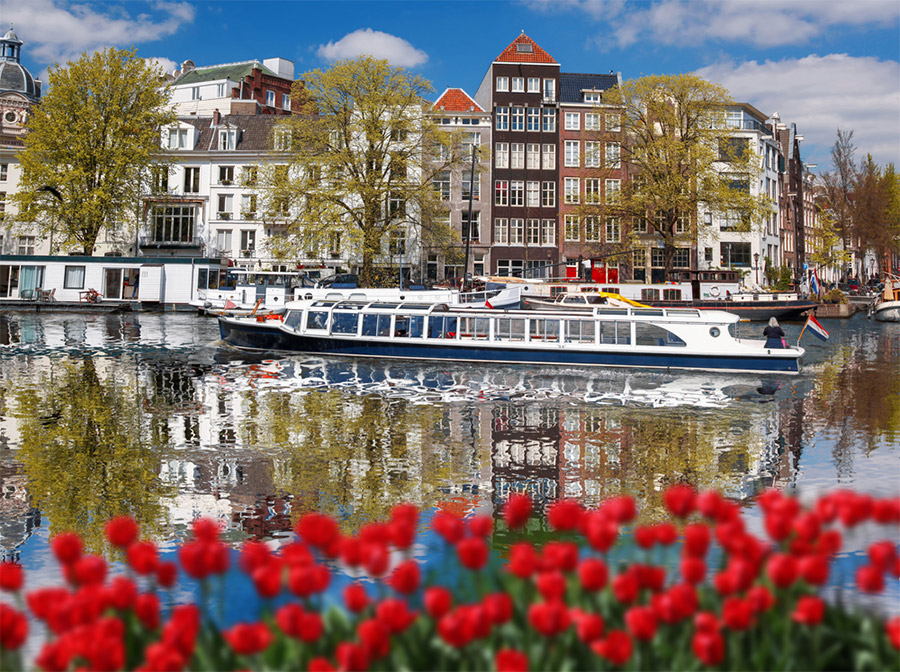 If you are on a quick layover and are keen to see all of Amsterdam's major sights, the Hop On – Hop Off Canal tour will likely be the easiest way to get from place to place. The tour has four different lines that cruise through the canals, providing 19 strategic drop off locations throughout the city. Some of the most notable sights include the Rijksmuseum, the Van Gough Museum, Rembrandt House and the Anne Frank House. Every boat also comes with on-board commentary in multiple languages, which provides interesting additional information about the city and sights. When purchasing your ticket online, it is also possible to upgrade to include skip-the-line access to the Van Gogh and Rijks Museums or Heineken Experience, making your layover a little bit more efficient.
Time Required: The entire cruise, start to finish, takes roughly an hour if you choose not to get off the boat. But, be sure to factor in additional time for any sights you wish to explore further. Tickets can be purchased for either 12, 24 or 48-hour windows.
How to Get There: While the tour can be joined at any of the stops throughout the city, it is easiest to take the train from the airport to the Central Station where the Red, Yellow and Green lines depart.
Anne Frank Museum
The Anne Frank House is one of Amsterdam's most powerful and historically significant destinations. It is located in the very home where Anne Frank took refuge as a teenage Jewish girl during the Second World War. The house has been converted into an exhibit that profiles Anne's remarkable story, and the plight of the Jewish population during this period. Her actual journal is also on display here. Chilling, thoughtful and deeply moving, a trip to Amsterdam is likely incomplete without paying a visit here.
Time Required: At the time of this update, tickets can only be purchased online. 80% of tickets are made available 2 months in advance with the remaining 20% of tickets released at 9:00AM same day. Same planning (and luck) is required to obtain tickets.
How to Get There: Check out this Google Map for details on public and private transit options, and the associated time required.
Rijksmuseum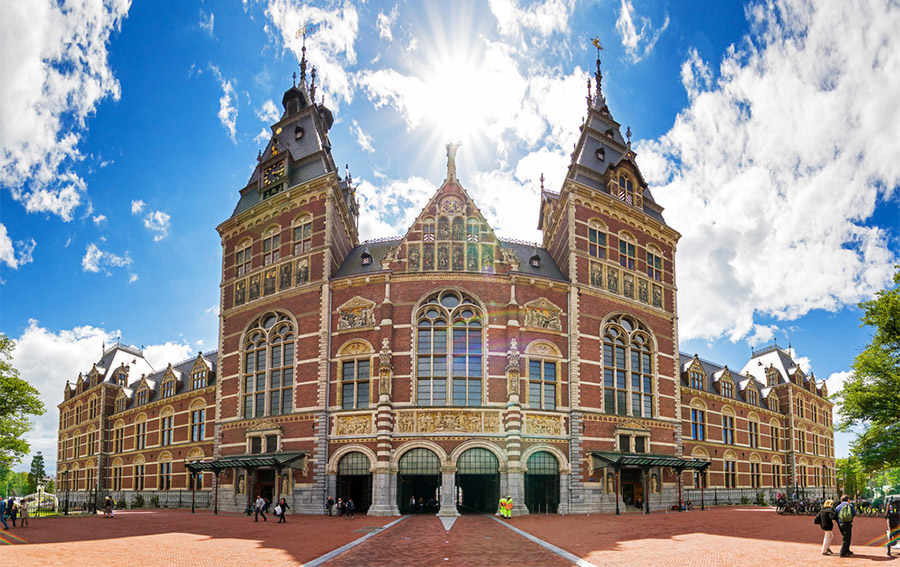 A visit to the country's largest and most impressive art gallery is well worth some time on an extended layover in Amsterdam. While there is a micro version of the museum within AMS, it is incomparable to the original. This 120-year old museum has a collection of over a million artifacts, which date back to the 13th century. A rotating collection of roughly 8,000 pieces are display on any given time, proudly featuring some of the country's most remarkable and coveted art. Perhaps the most famous piece permanently on display is Rembrandt's Night Watch. The Rijksmuseum was recently reopened in 2013 after a series of renovations and restorations, making it more remarkable than ever!
Time Required: To fully explore the Rijksmuseum, you would likely need a series of visits spanning a number of days. For a preliminary taste, we would recommend a minimum of an hour – more, if possible. You might also consider incorporating a visit to the neighbouring Van Gough Museum to this tour. Transport to and from the airport is not included in this time estimate.
How to Get There: Check out this Google Map for details on public and private transit options, and the associated time required
Canal Bike Tour
There are few ways more authentic to experience the beauty of Amsterdam than on a bicycle tour. Rental companies are established throughout the city, and most happen to offer both guided and self-guided options. The flexibility makes this an idyllic way to explore the breadth of the city with the time you have available! Swing by classic sights including the canals, the "I Amsterdam" sculpture, the Red Light District and the windmill-stippled tulip fields that surround the city. Take a rest from your bike as you stroll through an organic or floating market, before finishing your tour with a pint of Heineken at a canal-facing pub. Best of all – bike rentals come at a very affordable price in Amsterdam, and there are a number of sights you can see for free!
Time Required: Bikes can be rented by the hour or by the day – it entirely depends on the time you have available. We might recommend a minimum of two hours to truly get a taste of the city. Transport to and from the airport is not included in this time estimate.
How to Get There: Bike rental companies are extremely common throughout the city center. Check out this Google Map for details on the public and private transport options available for reaching the city center, and the associated time required.
Red Light District Walking Tour (Self-Guided)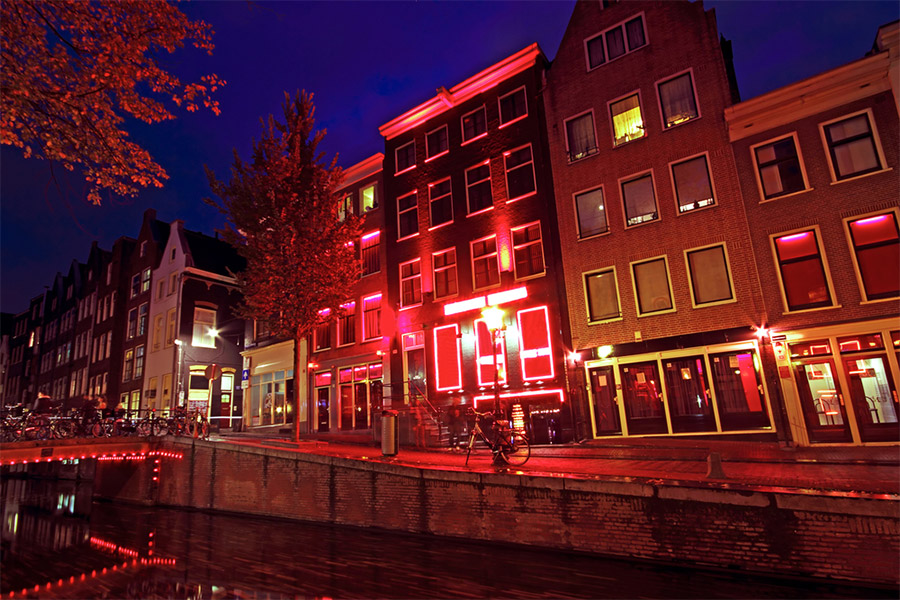 Of course one of Amsterdam's most famous destinations is the Red Light District. For those who are visiting the city to see something truly surreal and unique, a self-guided walking tour may be exactly what you're looking for. This self-guided tour takes you to six of the district's most famous sights, including the city's oldest church and its sex-worker tribute statue, the 'condomerie', the sex and erotic museums and of course, the hash and hemp museum. It also allows for ample detours to other points of interest, since it is entirely self-guided. Embark on the tour at your own pace, and revel in all that makes up this progressive city.
Time Required: This tour can be completed in an hour, but we would recommend more time if available. It will give you more chances to explore the various sights and enter into the museums that interest you most.
How to Get There: Check out this Google Map for details on public and private transit options to the tour's first stop, the Oude Church. Of course you can realistically begin the tour at any of the six points noted.
Transportation
AMS is conveniently located extremely close to the city center (approximately 15 kilometres), making access on a quick layover straightforward and efficient. A number of public and private transit options are available for a range in both price and time.
Public transit options include:
Bus (Departs Schiphol Plaza): All bus lines depart directly in front of the Arrival and Departure Halls and connect travellers to the city center and a number of surrounding regions. Bus 397 (the Airport Express) is the most direct connection to central Amsterdam. For fares and schedules: Bus 397 Airport Express Website.
Train (Schiphol Station): With departures occurring just beyond the Schiphol Plaza, this is another quick and cost-efficient way to reach the city center, the surrounding regions or a series of international destinations. For fares and schedules: Netherlands Railways.
Private transit options include:
Taxi: AMS organizes private, shared and business taxis for passengers. Reservations can all be made online in advance through the airport transport website.
Car Rentals (Schiphol Plaza): All car rental companies are based out of Schiphol Plaza, directly across from the Arrivals and Departures Halls
Before You Go: Layover Tips
Now that you are motivated and excited for your mini layover vacation, just make sure to check a few final logistical concerns off your list before you fully commit.
Entry Requirements? Do you need to organize a visa to leave the airport? Requirements change frequently and for each nationality, so be sure to seek out current details on the availability, cost and procedures of obtaining a transit visa.
Flight Details? When is your next flight's check-in time? Make sure you double check with your airline exactly when you need to be at the airport – and plan your layover accordingly.
Airport Security? What are security wait times like at the airport? Some airports are notorious for long security wait-times, so be sure to do a bit of research in advance and factor that into your overall time-budget.
Luggage Storage? What's happening with your luggage? When you check in to your first flight, be sure to confirm whether your luggage is checked through or needs to be picked up between your connecting flights. Check out our Amsterdam Schiphol Airport Guide for information about luggage storage.
Other Useful Resources
Finally, here are a few handy resources to help you plan your layover even more thoroughly:
Tripadvisor's Amsterdam Travel Forum – Check out past threads to see what other travellers have shared about sightseeing during long layovers at Amsterdam Schiphol Airport or post your own questions.