This article includes links to our travel partners at Tripadvisor, where you can read traveller reviews, book tours and plan your visit to Lima. 
The historic centre of Lima is located only 12km from Lima Jorge Chavez International Airport (LIM) and other areas of the capital city are easily accessible for some layover sightseeing. Most attractions are based in one of two areas so it's easy to create an itinerary for both short and longer layovers. It's a great place to do a walking tour, visit museums, sample some of the best food in South America and even see ruins within the city. Keep reading our Lima Airport Layover Sightseeing guide to discover more.
Airport Overview
Although not the largest airport, LIM boasts 24-hour shopping and food facilities so there's enough to keep you occupied for a few hours.  There are also lounges at Lima airport that you can pay to access. For more details, take a look at our Lima Airport Guide.
Lima Sightseeing Attractions
Below are a few of the top things to do in Lima:
Historical Centre
A great way to hit all the sights in the historic centre is to participate in a free walking tour. Generally, these start in the morning and you simply pay the guide a tip based on your enjoyment. Whether guided or not, try to make it to the Plaza de Armas at 11:45 AM for the changing of the guard and stop at one of the many restaurants to sample Peruvian delicacies of ceviche, cuy, anticuchos and even alpaca steak! For those seeking to soak up more history and culture, Lima is a hotspot for museums and art galleries. Once you've finished exploring, you will have to try the cocktail of choice – a delicious pisco sour!
Parque de Las Aguas
This beautiful park is situated close to the historic centre and is best visited at night. It contains ten water fountains, known as El Circuito Mágico del Agua, which are lit up with vibrant colours for a show at regular intervals throughout the evening. Music plays and a short film about the history of Peru is projected onto the largest of the fountains. It lives up to its name as a magical experience and you can also enjoy treats from fairground-style food trucks.
Miraflores Boardwalk
Miraflores is a popular area to stay in Lima and for good reason. The famous Larcomar Mall sits atop a cliff looking down over the Peruvian coast and offers a modern array of restaurants and shops. This is a great spot to watch the sunset with a drink in hand and also the place to start or finish the Miraflores Boardwalk. The walk follows a pretty path along the coast with various mini gardens, sculptures and places to sit along the way. The Lugar de la Memoria museum also sits on the coastal area and is worth a visit to learn more about Peru's fairly recent internal conflict. Signage is in Spanish but if you have data, you can scan a QR code to translate everything into your preferred language.
Huaca Pucllana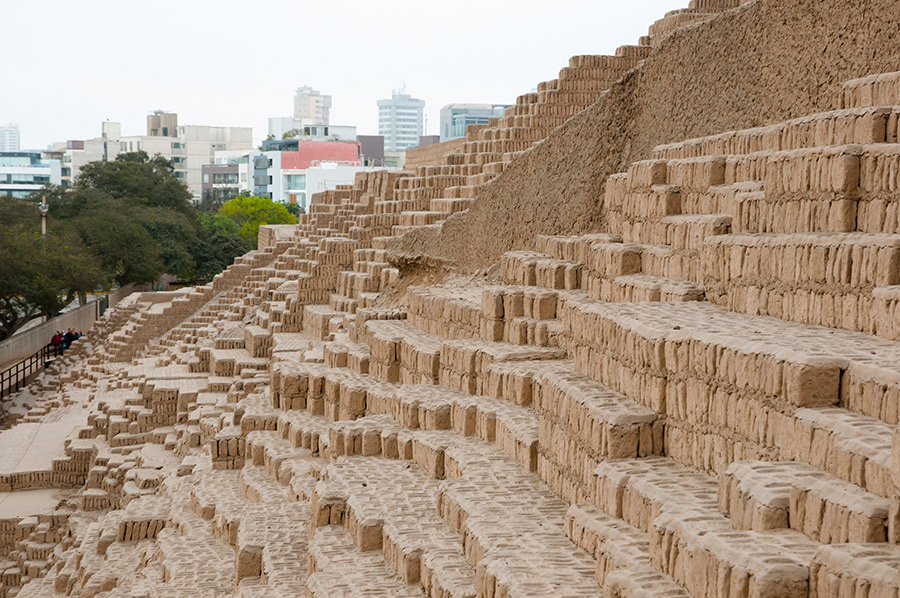 For those keen to experience some Peruvian ruins, you can do this on your layover too! Huaca Pucllana is in the Miraflores area and viewing the ancient Incan pyramid in the middle of a bustling modern city is quite a sight. A tour guide is obligatory and is included as part of the ticket.
Airport Transportation
Lima Airport isn't located too far from the city and there are multiple public and private transport options, depending on the time you have available and which area you choose to visit. The attractions discussed in this guide are based around either the historic centre or Miraflores.
Before You Go: Layover Tips
Now that you are motivated and excited about your mini layover vacation, just make sure to check a few final logistical concerns off your list before you fully commit.
Other Useful Resources
Finally, here are a few handy resources to help you plan your layover even more thoroughly: