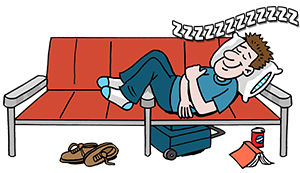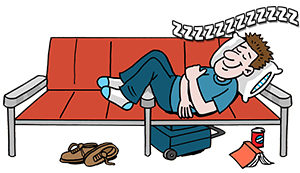 If you're dealing with a long layover or an early morning flight departure at Moscow Sheremetyevo airport, you might be wondering if it is possible to sleep in the airport. Our guide to sleeping in Moscow airport provides essential information for seasoned airport sleepers and newbies to help travellers arrive prepared for the experience.
We keep this guide up-to-date with the help of airport sleepers who have generously shared their experiences and airport reviews. If you have any tips or photos to contribute, please take a moment to write a review. Your feedback will help us stay informed about the latest advice for future sleepy travellers.
Sleeping in Moscow Sheremetyevo Airport
Locations & Seating
Thanks to the 2018 World Cup, the airport instituted a "good behaviour" policy, which included fining travellers 100-500 rubles for "offences" such as sleeping in the airport. We're unsure how long this policy will remain, but be aware. Travellers often report on the South Terminals of D, E, and F, as these house more international flights and overnight sleepers than the North Terminals. Terminals D, E, and F are more comfortable and have more amenities. Generally, each departure gate has a good amount of seating, including a few armrest-free and padded seats. The floor is mostly tiled, so bring an extra layer or sleep mat for cushion and warmth.
Here are sleep spots that travellers have reported:
A carpeted area where Terminals D and E meet, though it may now be a shop.
Terminal F has some corners near gates with armrest-free seating.
A Burger King near Gate 40 in Terminal D may have padded benches suitable for overnight sleep when the eatery closes.
Do you have a good location, airport tip or photos to add? Click here for our review form.
Rest Zones
At the time of this update, there are no designated rest zones within the airport.
Hotels

Prefer some privacy and comfort? Sleep capsules are available in Terminal E's departure area if you want a solid sleep between flights. Sleep Capsules have 12 mini-rooms that must be rented in person. Rent by the hour, up to 8 hours, during the day (starting at 500 rubles/hour, decreasing as you purchase more time). Overnight capsules are available, starting with a 2-hour block (760 rubles). Bring your own pillow and blanket or rent for 100-150 rubles each. GoSleep Pods are also available: Terminal E, 3rd Floor, International Flights, rental rates start at 250 ₽ per hour. If you prefer a more traditional hotel, check out the Radisson Blu Hotel Sheremetyevo Airport, which is connected to Terminals D, E and F by a walkway and shuttle.  See the hotel section in our Airport Guide for locations, or visit Tripadvisor to find hotel deals at Sheremetyevo Airport.
Lounges

If you are looking for a private place to nap for a few hours between flights, check out the Baikal Lounge, located in Terminal D. Besides offering a comfortable place to hang out, they have a few private sleep rooms that can be rented. Rooms can be booked at the lounge door. Check out our Moscow Sheremetyevo Airport Guide for more information on pay-to-use lounges.
Airport Conditions
If you plan to spend the night at the airport, here are a few things to keep in mind:
Temperature – Anticipate cold temperatures, especially overnight. Terminal F may be warmer than Terminals D and E. 

Arrive prepared with a blanket or sleeping bag. A hoodie provides extra warmth if the terminal gets even colder. 

Lighting – Travellers report bright lights throughout the airport. Come prepared with eyeshades or something else to cover your eyes, such as a shirt or towel.
Noise – This busy airport is noisy most of the time. Daytime sleepers can expect to hear frequent announcements; at night, it may quiet down just a bit. A few overnight travellers mentioned announcements that continue at all hours and cleaning crews with no problem getting close to a sleeping person to get their job done. Be prepared and have earplugs or noise-cancelling headphones.
Showers
Freshen up (and loosen those stiff muscles) with a shower before your flight. Shower facilities are located in Terminal D, landside, on Floor 2, near Baikal Lounge. For entry, pay at the Baikal Lounge; a fee of 400 rubles includes 30-minute access, plus towels and toiletries. Also, in Terminal D, head to the GettSleep rest area; the fee is 500₽ for 30 min with towel, gel/soap). Hours: 24 hours. Additionally, several pay-to-use lounges have shower facilities. See our Moscow Sheremetyevo Airport Guide for details and locations.
Food & Drink
When you get the midnight munchies or give up trying to sleep and need a coffee to stay awake, 24-hour options are available in every terminal.
Security & Safety
In general, the airport staff seem to tolerate or ignore airport sleepers, but with the 2018 World Cup "good behaviour" policy, we're unsure whether this has changed. Most travellers report no issues with security guards and police.
At the time of this update, we have no reports from travellers commenting on safety issues at Moscow Sheremetyevo Airport. However, sleeping in any airport can include a certain level of risk, especially when travelling alone. It's important to take certain precautions to ensure your safety and the security of your valuables. Here are a few tips:
Safety First. It's a good idea to know where the security office is located and look for video cameras where you plan to sleep. You can also ask the security personnel for advice on the safest places to spend the night.
Don't Seclude Yourself. If you're travelling alone, we recommend you stay near other travellers or close to security. This will help you feel more secure and deter potential thieves.
Hide Your Valuables. It's also important to hide your valuables. Don't leave them out in plain view, as this could make you a target for theft. Additionally, if you are a deep sleeper, you may want to padlock your bag to something or sleep with your bag up against a wall to make it harder for someone to access zippers and pockets. We have received reports of sleepers who woke up without their phones and laptop bags. The travellers were left with just their headphones and laptop bag strap.
Stay Alert. It's best to stay alert and awake if you feel unsafe or uncomfortable. Drink coffee or other caffeinated beverages to help you stay awake, and remember that you can always catch up on sleep during your flight. These simple precautions can help you enjoy a safe night at the airport.
Pro-tip: If you sleep in the public zone, don't be surprised if you receive an early morning wake-up call. Security is known to make the rounds, waking people up as travellers arrive for morning flights.
Write a Review
To help us keep this page up-to-date for future airport sleepers, write a review about your experience sleeping in Moscow Sheremetyevo Airport.
Airport Photo Gallery
No user photos have been submitted. Click here to add your airport photos.