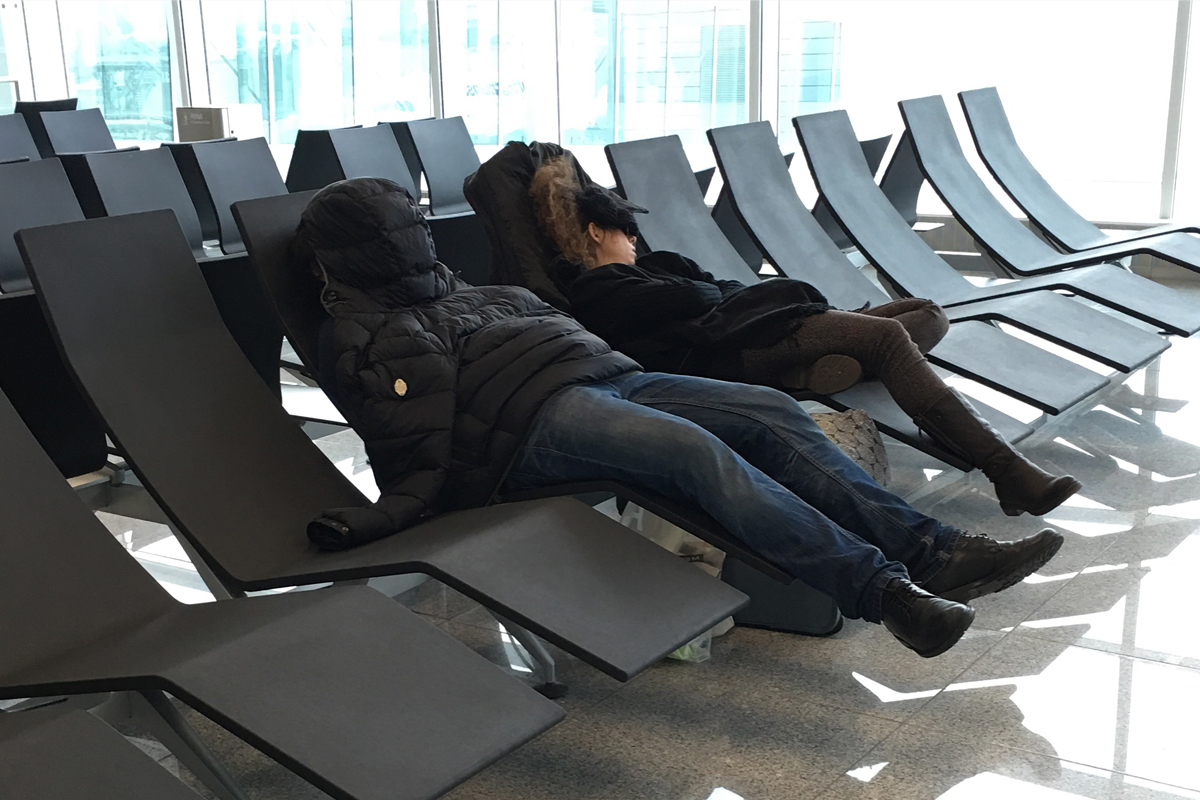 Whether your situation calls for a short nap or an overnight slumber, this sleep guide will give you the essential information needed to prepare you for sleeping in Munich Airport (MUC).
Our guide is updated with the help of  airport sleepers who tell us about their experiences at Munich Airport. If you have a tip to share, write a review to help us keep this sleep guide up-to-date!
Read the latest traveller reviews.
Sleeping in Munich Airport
Locations
Finding a great sleeping spot can sometimes be challenging and time-consuming, leaving you with less time to sleep.
Terminal 2 – This section of MUC is said to be a good location for sleepers due to the number of comfortable rest chairs and armrest free seating. One reviewer reported that Gate K12 has a large number of reclining chairs.
Seating
Reports indicate that MUC provides its travelers with plenty of seating, but the situation may vary according to terminal.   Chances to find a generous number of sleep-friendly seating options such as benches, reclining chairs, and basic seats with and without armrests are far greater in Terminal 2.
Rest Zones
Munich Airport offers three rest zones where tired travellers can relax before their flight. These designated areas include reclining chairs and footrests, as well as business stations with desks and power outlets. Locate the rest zone in your area of the airport.
Temperature
You can probably expect the airport to cool down at night, as the air conditioning still runs and there are fewer people inside.  Even when traveling during warm weather, it's best to come prepared with items such as a blanket or sleeping bag, as well as warm clothes or a hoodie. If you are not sure what the airport temperature will be, dress in layers.
Lighting
Airport lighting is generally bright, but it's common for airports to dim their lights in the late evening hours and turn them back to full brightness in preparation for the early morning flights.  Come equipped with an item to shield your eyes from bright lights. Helpful items can include eyeshades, a shirt, or a hand towel.
Noise
Daytime sleepers can expect to hear frequent announcements related to boarding calls, passenger pages, safety warnings, and so on. In the evening these announcements, along with foot traffic, tend to slow down, making it easier to get some sleep. Come prepared with earplugs or noise-canceling headphones.
Cleaning Crew
There are currently no updates related to cleaning crews interrupting travelers who are trying to sleep.
Security
As of this report, there has been no mention of security's interactions with sleeping travelers.
Pro-tip: If you are sleeping in the public area, you be woken up early by security. Although we have not received any tips on this happening at MUC, security is known to wake up overnight sleepers  as travellers begin to arrive for their morning flights.
Weather Delays
Due to the location of Munich Airport, weather-related cancellations can be common, and they are prepared with hundreds of cots. These cots are only distributed during mass cancellations and are not available for travelers who just decide to spend the night in the airport. If you are stranded due to the weather, contact an airport employee to direct you to where their cots are located.
Showers
If you would like to freshen up before your flight, Munich Airport offers several locations where you can take a shower for a small fee. You will find showers in the following locations:
Service Center – Terminal 2, Level 3, Gates G, H. Price per use is €15, plus a €20 deposit. Hours are 5:00 AM – 12:00 AM daily. Access key and a towel can be obtained from a Service Center staff member.
MAC – Munich Airport Center (MAC) – Go to the service center for access. Location: Landside, Level 3. Price per use is €15, plus a €20 deposit.
Food & Drink
If you want to grab a bite to eat or need a cup of coffee, MUC offers a few food options that are accessible 24-hours for your convenience. Check out your airside options below:
Amo – Terminal 2, Level 5, near Departure Gate L
Bubbles Seafood & Wine Bar – Terminal 2, Level 5, near Departure Gate L
Snack & Vending Machines – Terminal 2
Hotels & Sleep Cabins

If you are in transit and don't mind paying for comfort and privacy, Munich airport features Nap Cabs. Located Airside in Terminal 2, these self-service sleep pods come equipped with a bed, small desk, WIFI, privacy blinds, and air conditioning.  The Hilton Munich Airport is the only on-site hotel option. The hotel is located between Terminals 1 and 2, just a short distance from baggage claim.  See the hotel section in our Airport Guide for locations or visit Tripadvisor to find hotels deals at Munich Airport.
Lounges

While Munich Airport has several lounges, none have any sleep rooms. If you just want to relax in a comfortable seat or enjoy the amenities, check out our Munich Airport Guide to view their access requirements and rates.

Security & Safety
Sleeping in any airport can include a certain level of risk, especially when you are travelling alone. With that being said, there are precautions you can take to ensure your airport sleepover is safer.
Know Where Security is Located. Whether you are sleeping in the airport alone or with friends, it is good to know where security is. Know where their office is located and look for video cameras where you decide to stay the night. Ask security where it is safe to spend the night. They've probably seen many airport sleepers before you, and they will direct you to a safe spot.
Don't Seclude Yourself. If you are travelling alone, we recommend that you sleep near other travellers or close to security.
Hide Your Valuables. Don't leave all your mobile devices out in plain view. We have received reports from people who woke up with only earphones and a laptop bag strap, but without the iPods or laptops that were attached. The same goes for important documents and money. Keep these secure on your body so no one can get them without waking you up.
Secure Your Bags. If you are a deep sleeper, you may want to padlock your bag to something. If your bags have zippers turn the bag upside down (zippers to the floor) or sleep with your bag up against the wall so that it would be hard for someone to access it.
Choose to Stay Alert. If you don't feel safe, drink coffee, stay alert, and stay awake. You can always sleep on the plane!
Munich Airport Photo Gallery
Sorry, we do not have any photos of Schiphol Airport yet.
Write a Review
To help us keep this page up-to-date for future airport sleepers, tell us about your experience sleeping in Munich Airport in the form below.