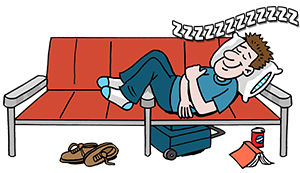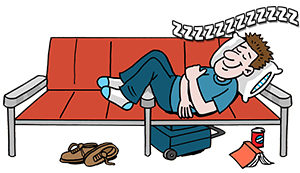 Whether you are an experienced airport sleeper or new to the game, this sleep guide will give you the essential information to better prepare you for sleeping in Beijing Airport.
Our guide is updated with the help of airport sleepers who tell us about their experiences at Beijing Airport. If you have a tip or photos to share, please take a moment to write a review to help us keep this sleep guide up-to-date!
Read the latest traveller reviews.
Sleeping in Beijing Airport
Locations & Seating
This huge airport sees more than its fair share of overnight sleepers, and airport staff generally have no issue with them. The good news is there is plenty of seating throughout, though a lot of benches are wooden and padded seats often have armrests. Terminal 3 is by far the most comfortable terminal to find a decent place to sleep.
Here are a few sleep spots that travellers have reported:
Burger King, in Terminal 3's mezzanine level, is generally OK with travellers spreading out on their comfortable couches.
Other restaurants, especially ones that are closed, may be good spots, too.
The pre-Security check-in halls have benches without armrests, especially near the A/B counters and L/K counters.
Rest Zones
Beijing Airport offers designated themed rest zones where tired travellers can relax and enjoy some stress-free time before their flight. The zones are often equipped with a few comfortable lounge chairs, carpeting, and a unique feature. Locations:
Window Lounge, Terminal 2, Gates 36-39
Brilliant Colors Lounge, Terminal 2, Gate 23
Oasis Lounge, Terminal 2, Transfer Hall, Floor 1
Digital Forest Lounge, Terminal 3, Gate C10
Tulip Lounge, Terminal 3, Gate C30
Temperature
The general consensus here is that the airport is overheated during the day and very cold at night. Hydrate and wear layers.  Arrive prepared with a blanket or even a sleeping bag. A hoodie provides extra warmth if the terminal gets even colder.
Lighting
At the time of this update, we have not received reports from travellers related to terminal brightness.  Come prepared with eyeshades or something else to cover your eyes, such as a shirt or towel.
Noise
At the time of this update, we have not received reports from travellers related to terminal noise. By day, expect to hear frequent announcements, like boarding calls and general airport information. At night when flights take a pause, you would think the announcements would be put to rest, but that is not always the case. As a precaution, come prepared with earplugs or noise-cancelling headphones.
Pro-tip: If you chose a spot near any eateries, keep in mind that the staff arrive early and they can get pretty loud in the kitchen.
Showers
Freshen up (and loosen those stiff muscles) with a shower before your flight. Locations: two free shower locations in Gate E Terminal, between the Bally and Montblanc shops and between the Ferragamo and Hugo Boss shops. There may be showers in Terminal 2, between Gates D5 and D6, for 50 RMB. A few airport lounges also offer shower facilities, listed in our Beijing Airport Guide. Each terminal's Baggage Claim Hall also has free dressing rooms, to make changing clothes easier.
Food & Drink
When you get the midnight munchies or give up trying to sleep, check out the many 24-hour food vendors:
Terminal 1: Comfort Garden, KFC, Starbucks, and Urban Food Market
Terminal 2: Acasia Deli Cafe, Costa Coffee, Du Hsiao Yueh, Grab & Fly, Heineken, Kafelaku Coffee, KFC, Lei Cafe, Malan, Qing Feng, Starbucks (2 locations), Urban Food Market, Yang Guo Fu, and Yoshinoya
Terminal 3: Ajisen Ramen, C. Straits Cafe, Celestial Cuisine, Costa Coffee (2 locations), Crystal Jade Kitchen 2 locations), Gourmet Noodle House, Lei Cafe, McDonalds, O'Leary's, Paris Baguette, Starbucks (3 locations), Thai Express, UBC Coffee, and Zkungfu

Security & Safety
At the time of this update, we have no reports from travellers commenting on safety issues at Beijing Airport. As a precaution, here are a few tips to ensure you have a safe airport sleeping experience:
Know Where Security is Located. Whether you are sleeping in the airport by yourself or with friends, it is good to know where security is. Know where their office is located and look for video cameras in the spot you decide to stay the night. Ask security where it is safe to spend the night. They've probably seen many airport sleepers before you and they will direct you to a safe spot.
Don't Seclude Yourself

. If you are travelling alone we recommend that you sleep near other travellers or close to security.

Hide Your Valuables. Don't leave all your mobile devices out in plain view. We have received reports from people who woke up with earphones and no ipod and a laptop bag strap and no laptop bag (or laptop). Same goes with important documents and money. Keep these secure on your body, so that no one can get them without waking you up.
Secure Your Bags. If you are a deep sleeper, you may want to padlock your bag to something. If your bags have zippers turn the bag upside down (zippers to the floor) or sleep with your bag up against the wall, so that it would be hard for someone to access.
Choose to Stay Alert. If you don't feel safe, drink coffee and stay awake and be alert. You can always sleep on the plane!
Pro-tip: If you are sleeping in the public zone, don't be surprised if you receive an early morning wake-up call. Security is known to make the rounds waking people up as travellers begin arriving for morning flights.
Hotels

Searching for some privacy and comfort? If you would like a good solid sleep between flights without the stress of going through security, in-transit sleep pods are available in Terminal 2, near Gate 31. GoSleep Pods are a combination of a sleeping chair with a pod-like cover to block out noise and light, with under-seat security for personal belongings and in-pod chargers. Rent by the hour.
Prefer a more traditional hotel? The Hourly Hotels (several locations in pre-Security areas) rent rooms in blocks of 4-6 hours. Choose a private bed-and-bath ensuite or a single standard with shared bathroom. Shower-only packages are also available.  See the hotel section in our Airport Guide for locations or visit Tripadvisor to find hotels deals at Beijing Airport.
Lounges

If you are looking for a private place to nap for a few hours in between flights, check out the BCAT Hourly Hotel & Lounge (Air China Business Class Lounge), open 24-hours in Terminal 3E. In addition to offering a comfortable place to hang out, they have a few private sleep rooms that can be rented. Rooms can be booked at the lounge entry. For more information on this and other lounges, check out our Beijing Airport Guide.
Write a Review
To help us keep this page up-to-date for future airport sleepers, please write a review about your experience sleeping in Beijing Airport.